✰OnPoint- MASSIVE House, PERFECT Location-Parking✰
A unique and charming space conveniently located near the city centre of Nottingham. The living area has modern fittings throughout such as a sleek sofa, rug and coffee table and is the ideal place to relax in and watch your favourite Netflix shows on the Smart TV.
It connects to the open-plan kitchen and dining areas which overlook onto the spacious and landscaped garden.
The kitchen is brightly-lit and comes fully-equipped with a stove, oven, toaster, kettle, fridge/freezer, dishwasher, microwave and cutlery.
Enjoy your favourite meals at the 4-seater dining table or at the 2-seater breakfast bar.
The home is work-friendly and includes a variety of work surfaces including a 6-seater table on the first floor which overlooks the garden.
When sleep calls, head into one of the five cosy bedrooms fitted with quality bedding for a good night's rest.
Three rooms have double beds, one has a single bed and the other has two single beds. All rooms include storage space (wardrobe/chest of drawers) and fresh towels.
Enjoy a hot shower/bath and freshen up before heading out to a business meeting or social gathering. The bathrooms include a overhead bath/shower, basin, toilet and mirror and a WC is on the first floor.
There is also a complete one bedroom flat on the ground floor for you to enjoy! See the pictures, they tell you everything you need to know!!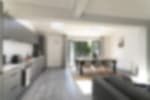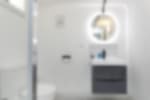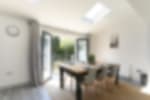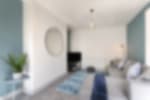 Loyalty Rewards Available