✰OnPoint -MASSIVE 6 Bedroom House With Parking!✰
This spacious 6 bedroom & 3 bathroom home with a large garden and free parking is the perfect escape for up to 12 guests. It is located in a residential neighborhood close to the city center of Reading where you will be able to find popular shopping experiences and vibrant night life. For your convenience, local amenities such as restaurants, supermarkets and shops are conveniently located a short drive away.
When entering this home, you will be welcomed into a spacious and sleek contemporary entrance hall which has a floor-to-ceiling mirror, chest of drawers and warm wooden flooring. Continue along the passage to find the open-plan kitchen, dining and living areas that contain high ceilings and many windows which create a bright and airy environment.
The lounge and kitchen are open plan so you are able to stay connected in the different spaces. In the lounge you will find a large and comfortable sofa where everyone can gather together, use the Free WIFI or enjoy your favorite TV shows and Netflix on the Smart TV. The kitchen is big enough to cook your favorite meals together and comes fully equipped with plenty of storage space, a stove, oven, fridge/freezer, microwave, kettle, toaster, coffee maker and kitchen utensils.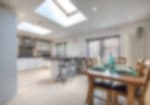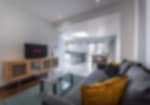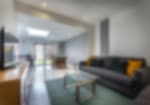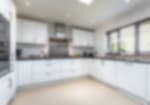 Loyalty Rewards Available