✰OnPoint - Large 6 Bed House With Parking!✰
Ambiance is sophisticated, cozy & bright. The space is decorated in a voguish style. Walls are painted in classic white shade with minute hints of lime and yellow. Trendy wallpapers, indoor plants & classy mirrors grace the whole place with a unique outlook. Nearby areas are full of fine restaurants, bars, cafés, shopping stories and other fun spots to spend quality time. This incredible home is perfect for weekend getaways or contractors stays.
Your time here will be full of fun, love & happiness!
 Centrally Located Apartment
 Cozy & Bright Ambiance
 6 Cozy Bedrooms
 6 en-suite Bathrooms
 Fully Functional Kitchen
 TV & WiFi Facility
 Dedicated Workspace in Each Room
 Iron & Laundry Facility
 Free Parking (On-Street)
 Long Stays Allowed
 Pleasant Neighborhood
The Bedrooms
Classy, captivating and comfortable! All 6 bedrooms are brightly lit, spacious & carpeted. The furniture is unique & stylish. There is a comfy queen bed in each bedroom. High quality mattresses, plush pillows & comforters are placed for your ease & comfort. Each room has its own trendy console table and seat where you can carry out any of your job/work related tasks. All bedrooms have cloth hanger stand with drawers where you can hang clothes and keep your stuff. Rooms have chic vibe with vogue yet classy decorations. Everything speaks of elegance & grace. You will wake up with the brightest smiles to spend a beautiful day ahead!
 6 Classy Bedrooms
 Fully Carpeted
 Luxury Queen Bed in Each Room
 Top Quality Pillows & Mattresses
 Working Desk & Chair in Each Room
 TV Facility
 Cloth Hanger Stand
 Hangers Provided
 Extra Bed Sheets & Bed Linens
 Trendy Decorations
The Bathrooms
6 Bathrooms that are ensuite. Super stylish and well maintained. All bathrooms are tiled and kept tidy. They all are identical. There is toilet, smart washbasin with cabinet and separate shower area. Necessary toiletries are present to make your stay as comfortable as possible.
 Toilet & Toilet Papers
 Soaps
 Towels
 Smart Wash Basin with Cabinet
 Glass Cubicle Shower Area
 Hot Water
 Hair Dryer
The Kitchen
Sleek and stylish kitchen where you can cook your favorite meals. It has a greyish outlook with wooden flooring. Countertop is spacious. Kitchen area is well lit & kept tidy. All necessary appliances and kitchenware is present for your convenience. Washing machine is also installed inside kitchen. There is another smart counter with stools where you can have your meals. Everything is available to make your stay as homely as possible!
 Stylish Fully Equipped Kitchen
 Separate Counter with Stools
 Electric Stove
 Built-in Oven
 Washing Sink
 Microwave Oven
 Refrigerator
 Freezer
 Kettle
 Toaster
 Plates, Cups & Glasses
 Oil + Salt & Pepper
 Washing Machine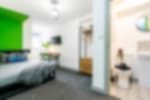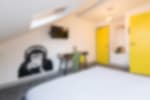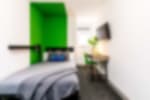 Loyalty Rewards Available