✰Modern & Bright 1 Bedroom Studio Apt✰
Stylish 1 bedroom apartment in Beeston area of Nottingham, 1 double bed with a kitchenette and shower and toilet. Some free parking on the road not always possible.
UNDER NO CIRCUMSTANCES - WE DO NOT ALLOW PARTIES. THE PROPERTY IS ACTIVELY MONITORED AND YOU WILL BE ASKED TO LEAVE IF THIS RULE IS BROKEN
Spend a lovely vacation at our stylish 1 Bedroom apartment, centrally located in Beeston area of Nottingham. Bright, fresh and radiant ambiance. This classy space has been kept super tidy and has a very elegant outlook. It comprises of a comfy double bed, fully furnished kitchen area, well-kept bathroom parking is on the road outside the apartment, however the street is small so be aware it is subject to availability. Everything you need is in place to make your stay here as homely as possible. In addition to the amenities present at apartment, the locality is full of remarkable restaurants, cafés, grocery shops & shopping malls. This place is a perfect getaway from daily grind. Or it is perfectly situated for workers to enjoy the home away from home luxury.
Your comfort, ease and happiness is our foremost priority!
 Centrally Located Apartment
 Luxury Double Bed
 Well Maintained Bathroom
 Fully Stocked Kitchenette
 Dedicated Workspace
 Iron & Laundry Facility
 On-road Parking Facility
 TV Facility
 Long Term Stays Allowed
 Vibrant Neighbourhood
The space has gleaming & sophisticated outlook. Walls are painted in classic white the majority of the flooring is wooden except the area surrounding the bed which is carpeted for your comfort. The apartment has been decorated in a trendy manner. Huge casement windows keep the rooms well lit. Right in front of windows, a working desk & seat have been placed so you can carry out any of your work-related tasks easily.
The Bed
Comfy sized double bed to relax after a full day. The mattress, pillows & comforters are of top quality. There are sleek side-tables on both sides with trendy headboard lamps installed above. Extra bed sheets & bed linens are available for your use.
 Double Bed
 Luxurious Mattress, Duvet & Pillows
 Side Tables & Lamps
 Extra Bed sheets & Linen Provided
The Bathroom
The shared bathroom is on the top floor next to the studio flat! It is shared with flat 5, so please bear this in mind. Super stylish outlook with necessary toiletries present. The bathroom comprises of toilet, washbasin and a separated classy shower area. Heating facility.
 Well-kept Bathroom
 Toilet & Toilet Papers
 Wash Basin
 Separated Shower Area
 Soaps & Towels
 Hot Water Facility
The Kitchenette
The shared kitchen area is on the top floor, fully furnished and fully stocked! It is shared with flats 3 & 5 so please bear this in mind. The kitchen area is fully furnished and fully stocked! It has wooden flooring & sleek greyish look. The kitchen is equipped with everything required for cooking & eating, the kitchen has multiple drawers and cabinets where pans, dishes, silverware etc are kept. You can cook any of your favorite meals here and enjoy a pleasant time.
 Stove & Oven
 Microwave Oven
 Spacious Washing Sink
 Refrigerator
 Freezer
 Kettle & Toaster
 Pans, Oil & Spices
 Dishes & Silverware
 Cabinets & Drawers to keep your own equipment if necessary
We always do our best to keep each property is great condition as shown in the pictures, however please be aware - over time properties may experience some wear and tear, much like us mortal humans :)
"Please note - ONLY the amount of people on the booking will be permitted to be inside the property at ANY time. We have Minut devices in the property which detect the amount of mobile phones and the noise decibels. Please take this as notice before booking."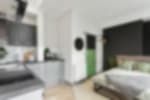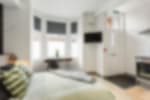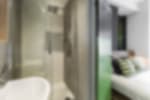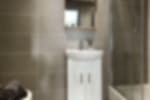 Loyalty Rewards Available