✰Convenient 2 Bedroom Apt Leeds Centre - Parking✰
UNDER NO CIRCUMSTANCES - WE DO NOT ALLOW PARTIES. THE PROPERTY IS ACTIVELY MONITORED AND YOU WILL BE ASKED TO LEAVE IF THIS RULE IS BROKEN.
The whole apartment displays a vibe of elegancy with its white shade and wooden flooring while the furniture has been set up in tones of slate-grey. The apartment is surrounded with gardens that provide a lively & fresh feeling to the whole space. It's the perfect place to spend dreamy nights and sunny mornings. Everything has been kept tidy & clean. You'll love the aura around you & will surely spend your time with ecstasy and bliss!
The Bedrooms
2 Luxury Bedrooms with cozy beds and fluffy quilts to forget your worries and enjoy deep slumbers! Both of the bedrooms have side table with cabinets and closets available where you can keep your stuff. Bed Linens are already available for your ease. Pella windows keep the atmosphere airy. The rooms provide the right feeling of peace & tranquility that you need on your vacation.
 Comfortable Queen sized Beds
 Quality Quilts & Mattresses
 Trendy Side Tables
 Spacious Closets
 Wooden Cabinet Tables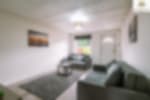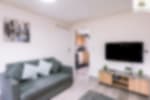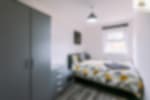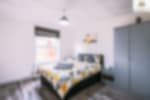 Loyalty Rewards Available