✰Captivating & Comfy 3 Bedroom Home with 2x Parking✰
UNDER NO CIRCUMSTANCES - WE DO NOT ALLOW PARTIES. THE PROPERTY IS ACTIVELY MONITORED AND YOU WILL BE ASKED TO LEAVE IF THIS RULE IS BROKEN
 Spacious Home with all Facilities
 3 Comfy Bedrooms
 Well-maintained 1.5 Bathrooms
 Large Kitchen
 Comfortable Living Room
 Parking Facility on Premises
 TV + Laundry Facility
 Dedicated Workspace
 Long Stays Allowed
 Neighborhood with numerous delightful places
The Bedrooms
Forget all the stresses & wake up with the brightest smiles in the comfortable, warm and lovely bedrooms. All bedrooms are carpeted and have a peaceful outlook. The master bedroom is painted in brown-beige shade that provides a vibe of calmness.
It comprises of a standard double bed with a wooden table on the left where you can keep your essentials while on the right, there's a small table with drawers.
Two single yet comfortable chairs are also placed. The second room, in shades of deep red & white, offers a double bed, a small stylish side-table and two console tables with numerous drawers to keep your stuff. The third bedroom comprises of a single cozy bed. Fresh Linen & Towels have been provided in very room.
All of the bedrooms have casement windows that keep them bright & well ventilated. Spacious closets are present in all of them so forget all your worries regarding keeping your belongings & stuff.
 Well Ventilated & Carpeted Rooms
 Main Bedroom with Comfortable Double Bed
 Second Bedroom with Double Bed
 Third Bedroom with Cozy Single bed
 Spacious Closets in all Bedrooms
 Fresh Linen & Towels Provided
The Bathrooms
Stylish yet well maintained bathrooms. Classy ceramic-tiled walls with wooden flooring. The main bathroom has a bathtub with shower, sleek washbasin shelf with many cabinets and toilet facility. The other is a mini-one, comprising of a glass cubicle, a smart washbasin and toilet.
 Toilet
 Toilet Papers
 Wash Basin
 Bathtub & Shower in one bathroom
 Glass Cubicle in other bathroom
The Kitchen & Dining Place
Spacious with a rustic outlook. Fully fitted kitchen - sleek marble counters with drawers & cabinets to keep stuff/items. The windows keep any kind of odor out. Every necessary appliance is present here. Right beside the kitchen, a stylish 4-person round dining table has been placed where you can sit and have your meals. Cook your favorite dishes and relish them with your fam. This home is your comfort zone!
 Stove
 Oven
 Spacious Washing Sink
 Microwave Oven
 Toaster
 Electric Kettle
 Fridge
 Pots & Knives
 Drawers & Cabinets
 Kitchen Trash Cans
 Dining Area
 Glass round table with 4 person seating
The Living Room
Spacious & elegant - decorated in a modish manner. The living room comprises of a luxurious black sofa set, fireplace, small table in the center & a small trolley table where TV has been placed. Spend some blissful time in this living room - an exquisite outlook, adorned with stylish lamps, graceful wallpapers and sophisticated wall hangings. The yellow lights grace the whole room with a calm and cozy look.
 Comfortable Sofa Set (5 Seats)
 Luxurious Black Leather Chair
 TV Facility
 Fireplace
 Voguish Decorations
 Brightly lit & Airy ambiance
Laundry Facilities
Space where you can do laundry, kept tidy & required appliances are present.
 Washing Machine
 Dryer
 Washing Sink
 Cabinets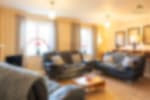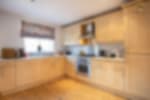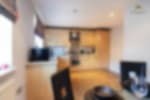 Loyalty Rewards Available